Hi there. I'm Angie, the owner of this blog, as well as two other blogs, and two Etsy shops (
Ambrosia Delights
and
Rio Oso Designs
). You might have heard of me through any of these venues, but especially through
The Downtown Boutique
blog. I tend to stay really busy between all of these online adventures; not to mention my homeschooling, babysitting, church participation, and last, but definitely not least, being a wife and mom.
Well, we're fixin' to get just a little busier for the next week, and believe it or not, I'm REALLY excited about it! Let me just tell you a bit about The Downtown Boutique. We wanted to help promote other artists, crafters, entrepreneurs, mompreneurs, etc.
With all the warnings out these days about lead, and other toxins in products made in China, we wanted to offer a safe and beautiful place to purchase handmade products. And so The Downtown Boutique was born.
Since the conception of The Downtown Boutique, we have had over 3000 hits! I'm so excited, because yesterday, we had the most hits ever in one day: 230! And we're well on our way to that today. We are averaging anywhere between 60 and 90 hits a day, and we have had visitors from over 35 different countries across the globe!
We offer so many ways to be featured on The Downtown Boutique, including being a sponsor, by
advertising
, and being chosen for "My Faves". Of course, we can't forget the
"Friday Features",
where we introduce you to an artist or crafter, and give away one (or more) of their products.
And then there's the
"Tots on Tuesdays"
feature, where we feature SAFE, handmade gifts, clothing, toys and just basic gear for babies and children; featuring one specific artist/crafter. We give something away on Tuesdays too!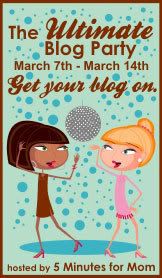 Starting tomorrow, we're going to shake things up a bit and throw a great BIG party! You can read more about the
Ultimate Blog Party
on your own. Let's get to the GOOD stuff! We have EIGHT different giveaways going on from March 7th through the 14th! These items will be listed tomorrow...the 7th.
You can enter to win one of these great items, by commenting on which one you would like to win. Be sure to leave a VALID email address so that we can get ahold of you when you win! If we don't have any way of getting ahold of you, we will choose another winner. You can enter your email address like this (for safety):
myemailaddress (at) yahoo (dot) com
We will not share any of your information with ANY other company, so you can feel confident in entering these giveaways.
Here is the list of people who will be giving something away:
So put on your party hat, and we'll get this party started in just under 24 hours!! See you there!!
Have a great day!
Angie